Extreme Veteran

378

Israel / NJ
Subject:
Has anyone ever Donated Bone Marrow
I got a call today that i am a match to give Bone marrow. I did the Test in Israel in 2005 and now im a match. Im not sure how the process goes and i dont care about Triathlon training if i can save a life.
Just wondering what to expect and if anyoen has done it b4.


Expert

900

Subject:
RE: Has anyone ever Donated Bone Marrow
I am on the registry but I have never been called to donate.
That is pretty neat that you have this opportunity, I know that finding a match can be a .
Please, let us know how it goes?!

Pro

5013

Twin Cities
Subject:
RE: Has anyone ever Donated Bone Marrow
Oh, awesome! I have been on the registry for years, as has my dad...neither of us has ever even been called for more testing. Keep us posted!
New user

32

Pensacola, FL
Subject:
RE: Has anyone ever Donated Bone Marrow
Ershk
2012-08-20 10:42 PM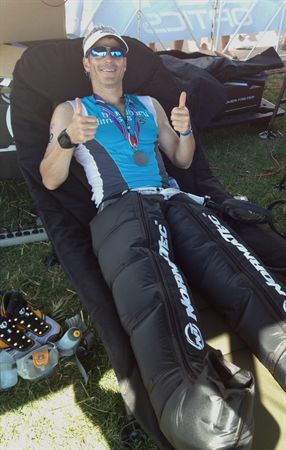 Expert

1123

Chicago
Subject:
RE: Has anyone ever Donated Bone Marrow
Good for you. My cousin become very involved in the process a while ago and is very knowledgeable. If you want to PM me an e-mail address, I can see if she can get in touch with you or field any questions that you have.
rotor
2012-08-20 11:03 PM
Member

22


Gilbert, AZ
Subject:
RE: Has anyone ever Donated Bone Marrow
I was a donor for my brother back in 1983 so things may have changed but here is what I remember.
After the initial blood test determined we were close, I had marrow extracted out of my ilium to do some further testing. Local anesthetic dulled most of the pain and it is over quickly but the extraction of the marrow was not something I'd want to do every day. Nothing compared to what my brother had to go through though.
The actual procedure was pretty quick. I went to the hospital the day of the operation and was placed under general anesthia. The marrow is taken out of the ilium since that is the area with the most accessible marrow. I woke up and was pretty sore along my lower back/ rear end. I spent that day in the hospital and was released the next morning. I was sore for a few days if I remember right but I don't think you'll be out of commission for too long.
My parents told me the actual transplant to my brother was pretty anticlimatic. They walked in the room with the bag of marrow, placed the IV in my brother, opened up the line and that was it.
Unfortunately the procedure didn't work for my brother. He passed a few months later at 13 years old. I hear they've made a lot of progress in medicine and they've had good success since the 80's. Good luck with everything.

Master

4109

Subject:
RE: Has anyone ever Donated Bone Marrow
Rotor: So sorry for the loss of your brother.
To all of you: Thank you for being part of the registry. I am a regular blood donor but have never been tested/signed up for bone marrow. I don't know anyone who has ever needed either one, but figure those of us who can donate should. Once again, proves to me that triathletes/BT'ers rock!

Melon Presser

52015

Gold member
Subject:
RE: Has anyone ever Donated Bone Marrow
My closest friend in college was a match and donated to (a truly bizarre coincidence) another student at the same college! (Very small college, 1500 students when I was there)
He had a basic physical, more blood and urine taken, and was given lots of information regarding the process and consent.
The extraction was a few weeks later done under local (not general) anesthesia (his choice) and he said it was definitely uncomfortable but not outright painful. The extraction site was in the iliac crest (pelvic bone, needle goes into the lower back toward the hip). He was free to go that day and went to choir practice that evening although he sat instead of standing. He said he was really sore in that area, like heavy-day-of-basketball without training for months sore is the way he put it, but it didn't interfere with his normal schedule and he was back to 100% within a few days.
Depending on how heavy or hard your training is, and that you're young and healthy, you could probably be back to lighter training within a week, possibly full within two. Obviously it depends, but you're really an ideal candidate for a smooth donation and recovery.
Thank you, and thank you everyone who is on the registry.
Registering to be a match is just a simple blood test and even if you are ever a possibility for donation, as you can see, the process is fairly simple and not a big trial (we're TRIATHLETES, fercryinoutloud!).
If you're in the U.S., please go here for further information:
Extreme Veteran

378

Israel / NJ
Subject:
RE: Has anyone ever Donated Bone Marrow
Thank you everyone for those kind words. Its like the best wish ever for God to pick me to save someone's life. Im young and healthy so getting back into routine should not be a problem. I work in the operating room and know all about surgery but its more of the prep and all. I called the foundation and they are giving me all the info i need and making it super easy.
This is a must for people to do if you can. I will give you more info when stuff starts to happen!
Im doing it with GIFT OF LIFE............
Edited by temoniprince 2012-08-21 4:21 PM

Sensei

Sin City
Subject:
RE: Has anyone ever Donated Bone Marrow
Long story short, my stepfather died of leukemia when I was 5. From what my mom says (and she has a PHD in nursing and teaches it and WAS a nurse for years) that a bone marrow transplant is a rough experience, and on hindsight, would not have chosen that path since he died anyway. It was TERRIBLY painful treatment.
Maybe it's painful for the patient, and not the donor? Regardless, kudos to donating. So thanks from a cancer survivor (in progress) and someone also touched by Leukemia.

Pro

5639

Tejas
Subject:
RE: Has anyone ever Donated Bone Marrow
That's great Sammy! Hopefully your donation will save the recipient. Check out
http://community.lls.org/community/bloodcancer/transplantation
for the LLS.org forums dealing specifically with transplants and also check the website out for lots of useful info. Leukemia treatment is a roller coaster ride of ups and downs. Getting a transplant does not mean a person will be cured and for lots of people the really rough part of treatment begins after the transplant. Good luck for both of you.
Lafayette, CO
Subject:
RE: Has anyone ever Donated Bone Marrow
Earlier this summer I found out that I was a match to donate granulocytes for a leukemia patient who was the best friend of one of my friend's brother. I donated once and unfortunately was out of the country when they needed me again. He passed the day after my return so I was unable to donate again. I was fully prepared for the possibility that I might be a marrow match once he was able to get rid of the infection that we were fighting. Unfortunately the bacteria morphed into a superbug and they were not able to stop it.
Anyhow, my body didn't bounce back quickly from that donation (I the the neupogen and anti-coagulant really affected me more than I expected) but I wouldn't change the experience for anything. I never actually met my recipient but I did meet his wife and best friends and attended the most amazing celebration of life for him. Even though I've dealt with the physical and emotional affects the experience provided me I would never ever change what I did. And I have, in fact, told the donation coordinator that if they ever find that I am a match to another recipient not to hesitate to call and I'm on the marrow registry.
I realize it's not the same thing but the experience of having the chance to save a life was absolutely incredible to me. I pray that your gift is the gift of life for your match and that you both will be enriched by the experience.